Traveling with children and seeing the world through their eyes can be an amazing experience. Each new place you visit there's something else for them to explore and new adventures for the whole family.
But one of the challenges with traveling with children is transportation. Flying with car seats, strollers and luggage is stressful. By the time you reach your destination, it might feel like you just need to rest for several days to recover from flying as a family.
One way to simplify this is to stay at the best hotel in Juneau that enables you to walk everywhere with your children. You'll probably still want to fly with a stroller but walking Juneau instead of driving is one way you can simplify your travels.
Juneau Walking Tour with Kids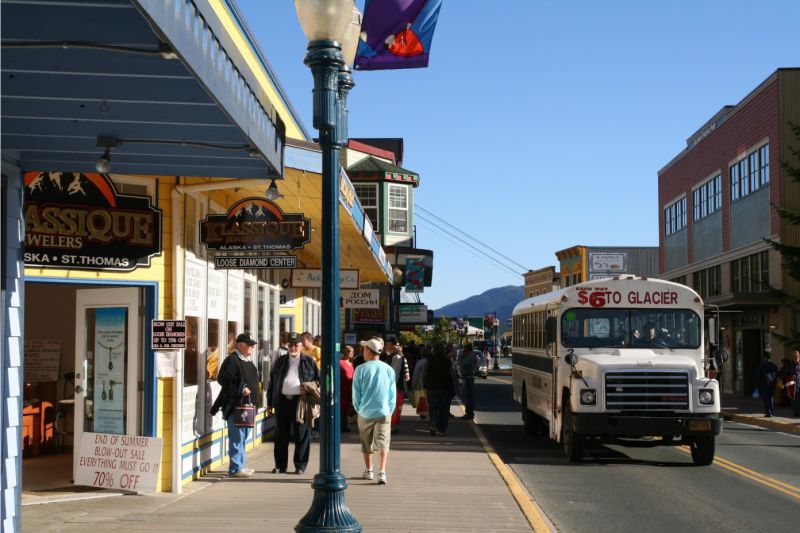 When you arrive at Juneau Hotel, take the family for a short walk to Juneau Convention & Visitors Bureau. It's only about a quarter of a mile away and a great opportunity to get to know downtown Juneau.
The Visitors Bureau offers maps of the area as well as information on local attractions, places to eat and how to navigate the city. You'll also find a wealth of information on the Travel Juneau website.
And if you aren't too tired from your travels and getting settled into Juneau Hotel, take the Juneau Seawalk on your way back from the Visitors Bureau. You'll get a fantastic view of the seaside as you start to see all Juneau has to offer.
Armed with maps and information, you're now ready to start your walking tour. We've split it up into two days to limit walking to about two miles per day.
Here's day one.
The Federal Building features the Alaska Native Exhibit – Walking distance from Juneau Hotel .3 miles.
The Governor's House was built in 1912. It is an elegant residence and home to Alaska's first family – Walking distance from Federal Building .3 miles.
House of Wickersham was the home of Judge Wickersham, who helped Alaska achieve statehood. He is also an architect of Alaska's Territorial legal system – Walking distance from Governor's House .3 miles.
St. Nicholas Russian Orthodox Church is the oldest Russian Orthodox church in Alaska, dating back to 1894 – Walking distance from House of Wickersham .1 miles.
Empty Chair Memorial is a tribute to Juneau's Japanese community members that passed away during World War II. – Walking distance from St. Nicholas Russian Orthodox Church 450 feet.
Stewart Legislative Office Building was built in 1928. It's a former Scottish Rite Temple that houses legislative offices – Walking distance from Empty Chair Memorial .1 miles.
Alaska State Capitol is where the Governor's office and the legislature are located. Tours are available so plan to schedule one in advance – Walking distance from Stewart Legislative Office Building .1 miles.


Break for lunch! You've walked a little more than a mile at this point with your little ones. You're nearby V Cellar Door a Mexican-Korean restaurant. Or visit Kitchen of Thai Curries for Thai food or In Bocca al Lupo for Italian food.

Juneau-Douglas City Museum houses exhibits on Juneau's history and culture. Since this is a museum, plan to spend a bit more time here. – Walking distance from Alaska State Capitol 190 feet or .1 mile from suggested lunch restaurants.
Windfall Fisherman is a life-size bronze bear sculpture by local artist R.T. Wallen– Walking distance from Juneau-Douglas City Museum 174 feet.
State Office Building has a restored pipe organ on the eighth floor, a totem and an observation deck that gives you an outstanding view of Juneau and Gastineau Channel – Walking distance from Windfall Fisherman .4 miles.
Alaska Territorial Guard Statue pays tribute to thousands of Native soldiers who guarded Alaska's coast against the World War II invasion – Walking distance from State Office Building .1 miles.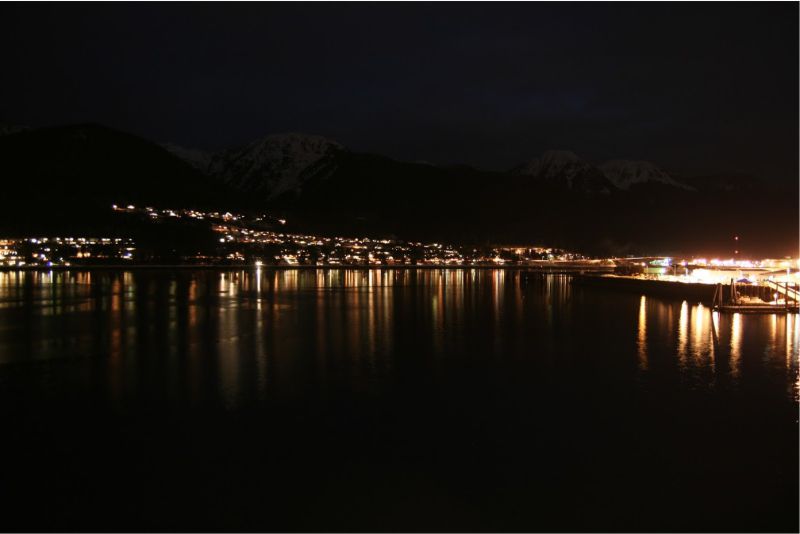 Call it a day and head to dinner! You can see the rest of downtown Juneau tomorrow but be sure to not overdo it with kids. As you head back toward Juneau Hotel, swing by TK Maguire's for dinner. You'll love the atmosphere and they have a great menu for kids. Or for a quick bite and casual environment, visit Raven Café. You'll also find Zen Asian Fusion Cuisine and Mar y Sol Mexican Food on your way back to the hotel.
Juneau Walking Tour with Kids Day 2
After a relaxing evening in the hotel, you're ready for another day of sightseeing on foot! Here's how to navigate day 2 of your Juneau walking tour with kids.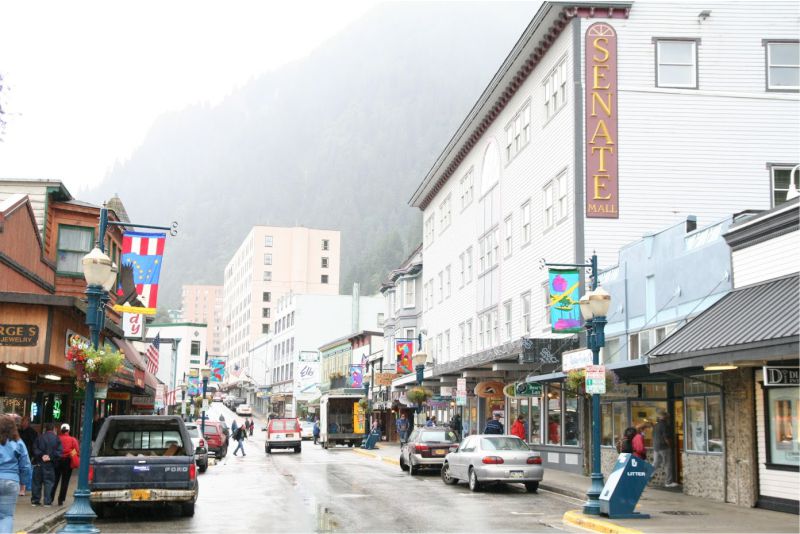 Alaska State Library, Archives, and Museum (SLAM) features Alaska history exhibits, Native culture and wildlife. Check into a guided tour for the full experience – Walking distance from Juneau Hotel .6 miles.
Juneau Arts & Culture Center features exhibits and art for sale from local artists – Walking distance from Alaska State Library, Archives, and Museum 400 feet.
Centennial Hall Convention Center is located in the heart of historic downtown – Walking distance from Juneau Arts & Culture Center .2 miles.
Sealaska Heritage is a cultural center featuring a traditional clan house, the Sealaska Heritage Store, and an exhibit telling the
Native people's story – Walking distance from Centennial Hall Convention Center .2 miles.
City Hall features local artist Bill Ray painted mural depiction of a Tlingit story of creation you won't want to miss – Walking distance from Sealaska Heritage 200 feet.


Pause and enjoy lunch. You're nearby some neat places the whole family will love. Consider Deckhand Dave's

Fish Tacos, El Sombrero, Poki Poki or Grumpy's Delicatessen.
Hard Rock Miner is a bronze sculpture by local artist Ed Way depicting Juneau's hard rock mining origins – Walking distance from City Hall or suggested lunch destinations .1 miles.
The Patsy Ann Statue celebrates Juneau's famous dog, Patsy Ann who welcomed steamships and visitors in the 1930s – Walking distance from Hard Rock Miner .1 miles.
Archie Van Winkle Memorial pays tribute to the first Alaskan to receive the Congressional Medal of Honor – Walking distance from Patsy Ann Statue .2 miles.
Fisherman's Memorial is a monument honoring those who dedicated their lives to the commercial fishing industry – Walking distance from Archie Van Winkle Memorial .1 miles.
USS Juneau Memorial features an anti-aircraft cruiser that the mayor's wife christened in 1942 and sunk that same year in World War II combat – Walking distance from Fisherman's Memorial .2 miles.
You've reached the end of your walking tour. From the USS Juneau Memorial, it's a 1.3-mile walk. Consider stopping for dinner on your way back. You'll find the Twisted Fish Company Alaskan Grill nearby or Tracy's King Crab Shack. Don't worry, the seafood restaurants have other options for children if they aren't interested in fish!
Best Hotel in Juneau When Traveling with Kids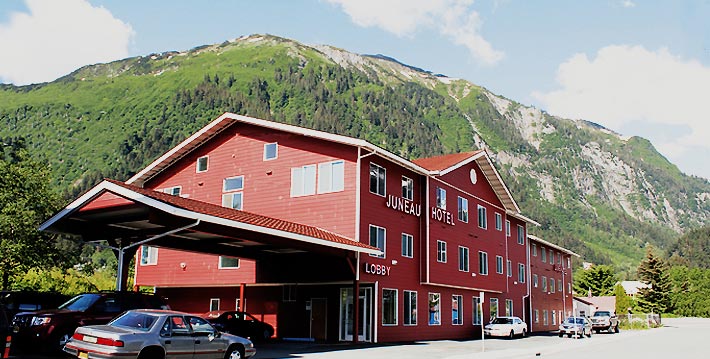 Juneau Hotel is located in the center of downtown Juneau. It's within walking distance of shops, museums and fine dining. And because you're in the center of downtown, it's easy to go on adventures, such as a seaplane flight or whale watching.
We know how hectic it is to travel with children, so we offer a complimentary shuttle to and from the airport to make your stay more relaxing. As an extended stay hotel in Juneau, our rooms also feature full-size kitchens so you can cook the meals your children love.
Children 12 and under are free with an adult. You'll also enjoy having a washer and dryer in your suite so that you carry home fresh clothes and won't feel the need to overpack.
Our various room options make us one of the best hotels in Juneau when traveling with kids. Our queen suite offers you a private bedroom with a queen-sized bed. Your children can sleep on the pull-out sofa in the main living space.
And with a TV in each room, your family can watch what you want to and take in your vacation. While you might not think you're coming to Alaska to watch television, after a long day of adventure, you might enjoy watching some cable television.
For added comfort for families of up to six, stay in the two-queen suite with a pullout sofa. Everyone will be able to rest and relax on your vacation to Juneau when you stay in this spacious suite.
The views from your window are breathtaking and allow you to continue taking in the stunning vistas Alaska has to offer during your entire stay. Juneau Hotel is in a safe area, clean and welcoming to children of all ages!
Book your stay with us now to start exploring the wonder and beauty of Alaska!
Further reading:
Keep Reading