Although Juneau may not be blessed with the abundant crimson, orange and gold leaves that blanket the East Coast or the Midwest when fall arrives; you can spot flashes of changing foliage around Alaska's capital city at all of its natural wonders. Your best bet to see fall foliage near Juneau is on foot, from the air, or by car.
Juneau's landscape is dominated by green (primarily spruce and hemlock trees). The city also is nestled in Tongass National Forest, the nation's largest national forest, a temperate rainforest filled with old-growth wood. Some trees are 1,000 years old. But the savvy leaf peeper can find changing colors throughout the area as cottonwood and willow tree leaves turn yellow and alpine blueberry, nagoonberry, and dwarf dogwood leaves turn a brilliant crimson.
Take a Hike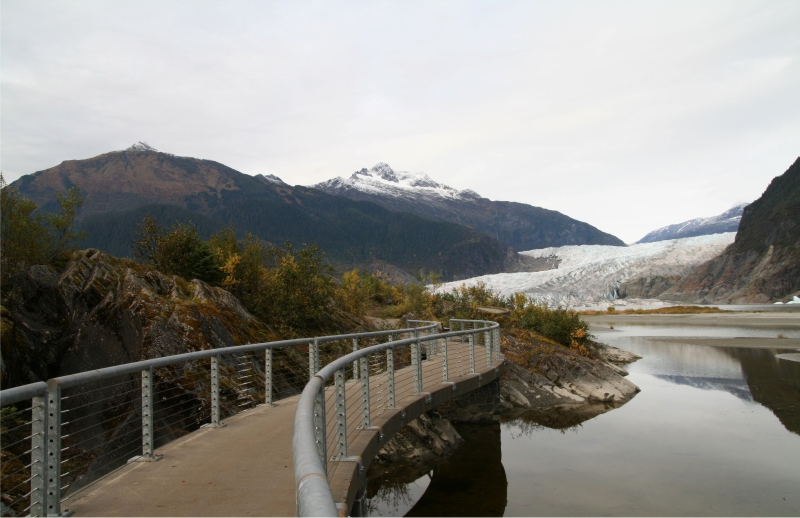 If you plan to hike, be sure to wear comfortable clothes and proper footwear. Juneau's blessed with more than 250 miles of hiking trails, so it's easy to find one that suits your skill level.
Mendenhall Glacier Visitor's Center: One of Juneau's most popular tourist destinations offers opportunities to view fall's changing colors. Want to see the colors and experience caves or waterfalls, too? Start by taking the hike to Nugget Falls. In addition to fall foliage, you'll also witness a spectacular waterfall that drops in two tiers into Mendenhall Lake. The trail from the visitor center to the falls is an easy one-mile hike. Another option to consider, take the 3.5 mile East Glacier Loop Trail from the visitors center. This hike provides glacier views, more waterfalls, plus possible black bear sightings in addition to fall foliage.
Douglas Island: If you choose to hike either (or both) the Dan Moller Trail or Summer Trail, expect to find pops of bright red as the leaves of the wild blueberry plants turn. The Summer Trail runs about 2.3 miles from the mountain's base to its summit at Eaglecrest Ski Area. The Dan Moller Trail starts on Pioneer Street and runs about 6.5 miles. Both are considered easy hikes.
Combine Foliage with Wildlife Viewing
Glacier Bay National Park: In addition to spotting changing leaves, Glacier Bay offers a variety of opportunities to witness wildlife in its native habitat as the animals prepare for winter. Bird lovers rejoice! The skies are filled with hawks, eagles, tundra swans, and both snow and Canada geese as they migrate to warmer climates. Want to see spawning salmon? The streams are filled this time of year with Coho or silver salmon.
Point Bridget State Park: Hike to Cedar Lake to view a mile-long grove of Alaska yellow cedar trees. Despite the yellow in their name, these slow-growing trees, which can be 200 years or older, don't have leaves that change. Their purplish shredded bark and distinctive odor, however, make viewing them worth the two-mile hike from Cowee Meadow or 12-mile trek from Camping Cove. The trees also are popular with beavers, and you can spot them at work on the lake.
View Juneau Fall Foliage from Above
The Mount Roberts Tramway: See fall foliage from above Juneau during a ride on the Goldbelt Mount Roberts Tramway. The tram leaves downtown Juneau every five minutes and provides spectacular views of Juneau and the Gastineau Channel and provides an ideal way to spot the colors of the changing leaves. Tickets cost $35 for adults and $18 for children 3 to 12. Children 2 and younger can ride for free. Maximum capacity on the tram is 60 people; experts recommend taking morning rides to avoid crowds.
Seaplane tour to Admiralty Island: A flightseeing tour on a seaplane with Alaska Adventures Juneau will give you a chance to view fall foliage as you take a ride over remote areas you can't reach any other way. The tour, which lasts 4 to 6 hours, includes a two-mile hike to reach the Pack Creek viewing area where you can watch Alaskan brown bears in their natural habitat. Call (888) 658-6328 or email to check prices. The island is home to the world's highest concentration of both brown bears and bald eagles. But other animals also call the island home, so, watch for harbor seals, sea lions, porpoises, and Sitka black-tailed deer.
Go for a Drive
Although Juneau is accessible only by air or water, you can take a fall foliage drive. Take Glacier Highway north of Juneau past Auke Bay to Berner's Bay. The roundtrip drive is about 50 miles and includes opportunities not only for leaf-peeping but also chances to hike, visit the Shrine of St. Therese and explore coves and beaches. Be sure to check road conditions before you head out.
Relax and Recharge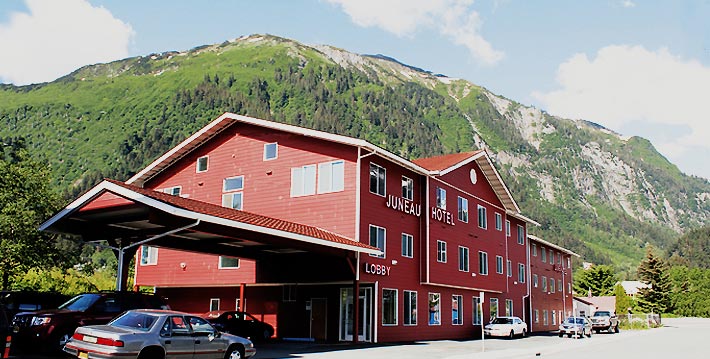 Return to your comfortable suite at one of the premier hotels in Juneau. It's easy to relax at The Juneau Hotel, which offers one- and two-bedroom suites with queen-sized beds. Because the hotel is conveniently nestled in the heart of downtown, you don't have to travel far to find something tasty to eat. You can enjoy a variety of food and drink options as you plan your next day's adventure.
Related Articles:
Keep Reading