Exploring the Pacific Northwest cannot be complete without going to Juneau, Alaska. The city is only accessible by boat or plane, with literally no roads connecting Juneau with the outside world. It is amazingly appealing to nature lovers, adventure seekers, history buffs, fishing and hunting enthusiasts and the list goes on. The impressive waterfalls, ice walls, mountainous landscapes and whale watching tours will inspire you to really appreciate nature, and will make you want to stay in the capital of Alaska.
Hotels in Juneau will help you plan your activities. Many of them offer a complimentary shuttle to and from the airport and the Alaska Marine Highway Ferry Terminal. They are generally located close to the waterfront, boutique shopping, as well as glacier tour agencies. So, if you've already booked your room, here are some spots worth exploring in Juneau.
Still Looking for Hotels in Juneau?
1. Mendenhall Glacier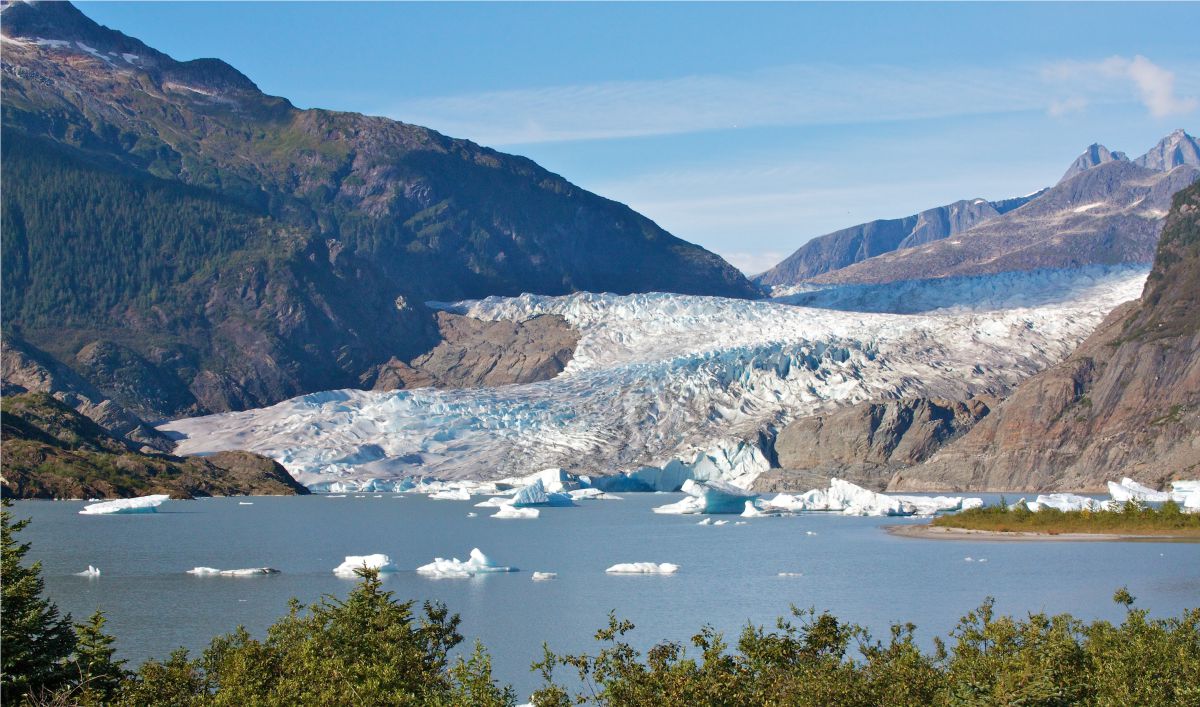 Breathtaking Mendenhall Glacier is a must see in Alaska. You can actually step on soil that was under massive quantities of ice only a few decades ago. A trail crosses a stream full of salmon where black bears can be spotted. It is the only glacier in Southeast Alaska that has road access, so you can take a tour bus, or a cab here with ease. Moreover, the Mendenhall Glacier Recreation Area is famous for its ice caves. Inside, you look up and around through the Glacier ice, as if you were inside an enormous natural igloo. The walls and the ceiling are all built from the same deep blue, carved by the melting water leaking through and beneath them. Your Instagram feed will be grateful.
2. Nugget Falls
From the visitor center by Mendenhall Glacier you can walk the shore of Mendenhall Lake to a thundering waterfall called Nugget Falls. This unofficial trail full of bushes and small creeks to jump over offers the chance to appreciate the true size of the glacier from a different angle. A mesmerizing bonus is seeing the giant icebergs floating on the lake to the left… When you reach Nugget Falls, ponder that this waterfall was unknown to humans before the glacier had receded (read: melted away). Scientists say that it used to fall directly beneath the glacier. Move up close near the Falls to feel the haste of powerful water. You can even climb on some of the large rocks next to it to enjoy the view and have a snack.
3. Helicopter Tour and Dogsledding Experience
It's a bit spendy, but what is Alaska without huskies and helicopter rides over the Juneau Icefield? Book a tour with a personal pilot-guide explaining the surrounding natural history and geology. Some packages include landing near a dogsledding camp. When you step onto the immense, windy icefield, you understand just how beautiful and diverse (!) our planet is. When you see the huskies making their way over to you, that's when the real fun begins! Don't forget to dress warm for this one!
4. Whale Watching
Many hotels in Juneau collaborate with TripAdvisor companies that offer whale watching tours by boat. Imagine 2 hours full of hope, excitement, and adventure. It's not guaranteed that you will in fact see whales, but if you are lucky enough to spot one (or more!), it is magical.. When the captain sights a whale he slows the boat, so the passengers can take pictures and enjoy the beauty of these magnificent mammals. It's frightening and wonderful in the same time! Even if you are not lucky enough to see a whale, you may encounter seals, eagles, and even dolphins! The guide on board will tell stories and answer questions about all wildlife you encounter.
5. Douglas Island Zipline Tour
Have you ever gone on a genuine zipline tour? It involves gliding on zip lines from one "station" to another up high in the air. You have the opportunity to do that in Juneau! Gliding through the charming Tongass National Forest on a series of 7 ziplines and 10 platforms you truly get to know the rainforest native to this area. Along your journey, you will "fly over" many streams and creeks . The trees in the area are over 400 years old. Most of them are western hemlock trees and sitka spruce. If you are fortunate, you may even see local wildlife. The views are simply breathtaking!
6. Salmon Fishing
Juneau is one of the best fishing spots in the world. If you travel in the summer, salmon fishing here may just be one of those unforgettable experiences of your life. It's not a surprise that many calendars around hotels in Juneau show salmon migration highlights! Fishing is that big of a deal around here. There are a plenty of fishing guides in Alaska. Full- and half-day charters take you on guided fishing trips to a remote river or lake. There are five types of Pacific salmon that roam the ocean, depending on season and the streams around Juneau. Is that a fisherman's heaven or what?
Our Hotel Offers Free Fish Storage
7. Admiralty Island
The home for brown bear populations, Admiralty Islands, inhabits about 1600 bears (the most dense population of bears in the world!). No trip to Juneau is complete without bears, even if it takes twenty minutes by floatplane to reach the island. The Pack Creek Bear Sanctuary is considered the most popular place to see these fascinating and beautiful animals. The island is also home to many sea lions, sea otters, seabirds, and other wild creatures. This is where you need to be extra careful to the tour guide's safety instructions!
This list just scratches the surface of the things to see and do in Juneau. Please let us know if you would add any to the list. Enjoy your stay in the most magical town in Alaska. We hope to see you soon.
Related Articles:
Keep Reading