Long-term stay hotels have grown in popularity over the last several years. These hotels tend to offer larger rooms with home-like amenities. As work becomes more flexible and remote, people are taking advantage of new opportunities.
Plus, with services like Airbnb that make it simple for homeowners to rent out their normal living space, it's more affordable to be more mobile and see all the places you've always wanted to see.
This form of Juneau lodging accommodates travelers for longer stays when they want to feel like they're at home. We'll answer common questions related to extended-stay hotels and guide you in picking the best one in Juneau to meet your needs.
What Is a Long-Term Stay Hotel?
Long-term stay hotels cater to customers staying for more than a few days, but that doesn't necessarily mean you can't book an extended stay hotel for just a couple of days if you want.
Really, the term refers to the experience you'll have during your stay more than the requirement that you stay for a long time. Here's what you can expect from long-term stay hotels.
Larger rooms with separate living and sleeping space that feel more like home
Gym facilities that are included in your nightly rates
In-room kitchen with refrigerator and appliances for cooking
Wi-fi included in nightly rates
Cable television, sometimes with premium channels
Weekly room cleaning
Front desk with extra supplies when you need it
Better nightly rates over traditional hotels
What Are Long-term Hotels Called
Another common term for long-term hotels is an extended stay hotel. The terms are interchangeable, but both mean the same thing: a hotel with special accommodations for guests staying for more than a few days.
Do Hotels Give Monthly Rates?
Many hotels do not list their monthly rates on their website. Instead, it's better to call the hotel to learn more about long-term stay prices.
At Juneau Hotel, we strive for transparency and easy booking. You can always look at our specials page to learn more about booking an extended stay with us at an affordable rate. You'll see details about the type of room you're booking and when the specials are good through.
Is Living in a Hotel Cheaper Than Renting?
It really depends on your needs. Not having to purchase furniture and other furnishings is a great benefit of living in an extended stay hotel. You'll be far more mobile and able to travel around without the burdens of paying storage fees and other costs of keeping your household goods.
With an extended stay hotel, you get the added benefit of great amenities like a hotel gym and a front desk staff to accept packages and serve as your personal concierge.
Hotels provide a fixed living rate. You won't have any surprises in higher-than-usual utility bills or changes in cable agreements. Plus, you don't have to do your own cleaning, which is a great benefit.
Living in a hotel is as expensive as you choose to make it. But it can help you travel more and see unique places without the burden of upkeep on a home, condo or apartment.
Is There a Limit to How Long You Can Stay at A Hotel?
If the hotel you're staying at is not a long-term stay hotel, there might be a limit on the number of nights you can stay there. Ask at booking what you need to know about these limits if you're unsure how long you'll be staying.
That's why it's always a good idea to explore extended stay hotels when you'll be staying for more than a week somewhere. Not only are there price benefits, but it also ensures you don't have to check out and move rooms in the middle of your stay.
Why Kitchens Are Important for Extended Juneau Lodging
Kitchens are a huge selling point for long-term guests because they allow travelers to live normally even though they're living in a hotel room. Eating out for every meal can get expensive. A fully stocked kitchen with all the necessary tools and appliances allows visitors to feel comfortable and at home during their stay.
What Are the Benefits of Long-term Stay Hotels?
Staying in an extended stay instead of a traditional hotel has many benefits. Here's a look at some of the benefits you might experience.
Home-like setting: when you're staying somewhere for more than a few days, a home-like setting can help you relax but without the stress of cleaning and home maintenance.
Affordable rates: an extended stay is much more affordable than a traditional hotel since they plan for you to be there long-term.
Money-saving amenities: complimentary services like free wi-fi and cable television can help you save money while enjoying your stay.
Full in-room kitchen: instead of eating out for every meal, you can cook in your extended stay hotel room. Test out new recipes or enjoy local cuisine that you make right there in your room.
Situations When People Might Consider an Extended Stay
Extended stay hotels provide a nice and convenient place to live during life changes or large events. Here's a look at some of the reasons you might want to use one of these hotels.
During home renovations: home renovations are exciting times because you're making your home into your dream home. But there are also times during the process where it's frustrating to be living at a construction site. Staying at an extended stay can ease your stress during this time.
Preparing for a wedding: members of a wedding party or close family members might want to spend more time with the bride and groom when they travel for a wedding. Without being a burden on anyone involved in the wedding, guests can book an extended stay to provide them a comfortable place to stay while helping prepare for the wedding and visiting with family and friends.
To celebrate the birth of a baby: family members often want to come to town when a new baby is expected. But the challenge is, babies come in their own time, so you don't know how long you'll be in town. And to give the new family some space to bond with their new little one, an extended stay is a great option. You'll be close enough for daytime visits but then will have your own space when you need it or when the young family needs some space.
Longer vacations: some people have the freedom to take a longer vacation. An extended stay can help make these long-term vacations more relaxing and enjoyable. You'll have plenty of time to visit a city, which is great news when you're visiting a city like Juneau where there's so much to explore.
To provide remote workers some variety: a home office for remote work is great, but it can also start to feel monotonous. Escape those same four walls with an extended stay in another city. You'll have fun, new activities to do after working hours but with all the amenities of home.
Choosing a Juneau Hotel to Meet Your Needs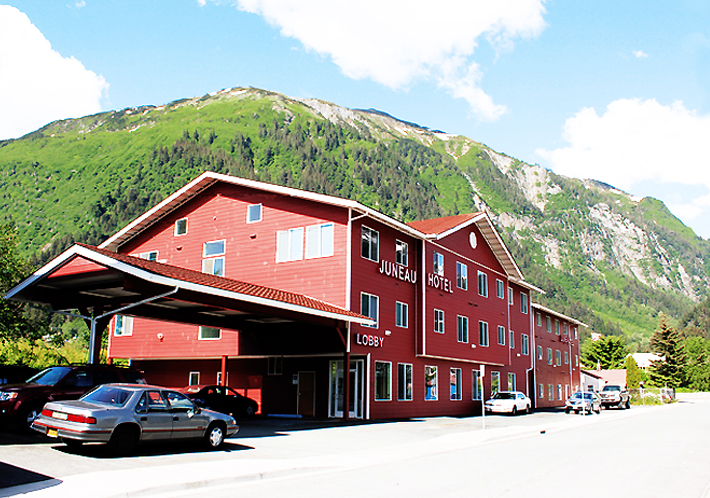 Ultimately, you have to be comfortable where you choose to stay. It's best to evaluate your long-term stay needs to decide which amenities are important to you and budget based on how long you'll be staying.
Juneau Hotel offers a home-like setting to provide an outstanding Juneau lodging experience. Book your stay online now or give us a call with any questions you have about staying with us.
Further reading:
Keep Reading