Downtown Juneau, Alaska, offers a small-town feel but with plentiful attractions to see and delicious food to eat. And one of the best parts is that you can walk through downtown to save on transportation costs and get a close-up view of these historically rich attractions.
And as you travel through downtown, you'll transition from waterfront attractions to historic churches and business districts. It offers diversity for any traveler no matter their interests. 
If you're coming to Juneau, consider setting aside a minimum of a full day to tour downtown Juneau. Here's a look at the attractions, historical sites and stunning views you don't want to miss.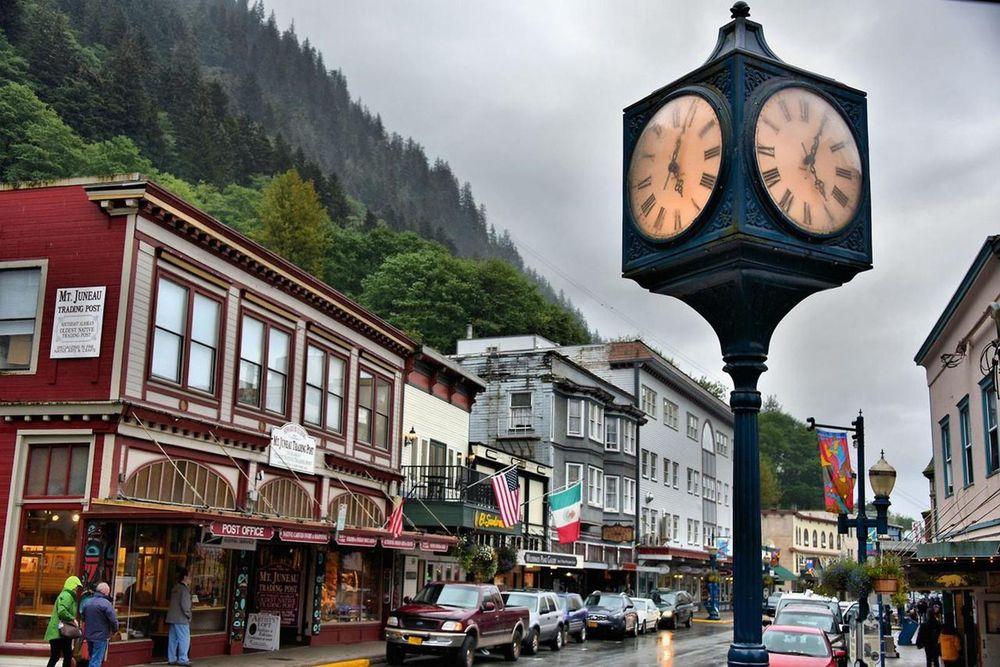 Waterfront Attractions in Downtown Juneau, Alaska
The waterfront offers a tranquil escape from everyday life. Throughout the year, you'll want to plan to layer up when exploring Juneau's waterfront because it can get pretty chilly, even during the summer months.
A few things you won't want to miss include:
Sidewalk sundial in honor of fishermen lost at sea (check it out near the tram terminal)

Images of lighthouses

Nails hammered into decking that form a distance map of Juneau

Spotting scopes where you can see a close-up view of Mount Juneau where you might spot mountain goats
Mount Roberts Tramway
You'll go up 1,800 feet from the cruise ship dock downtown into the rainforest (though Mount Roberts rises 3,819 feet total). While on the tramway, you'll see panoramic views of Juneau and the Gastineau Channel. And once you've completed your ride, you'll get to say you've ridden one of the most vertical tramways in the world.
From these heights, you can see Admiralty Island, Douglas Island, the Chilkat Mountains, downtown Juneau and the Gastineau Channel. The experience comes with a small price tag but is worth the views of the city and surrounding area. And if you want to make the most of your ticket, you can ride up and down a few times since the ticket is good all day long.
For nomads who would rather just explore than schedule their whole vacation, you don't need reservations in advance to ride the tramway. You can purchase your ticket at any time. 
Alaska State Museum
The museum's exhibits went through a redesign in 2016, making it even more inviting and interesting. You can walk through various eras of Alaska's history while learning about Alaska's Native populations. 
Learn more about the Russian-American days. One attraction that delights guests is the sailing ship replica that allows you to board the ship to experience what it would be like on a real ship.
Sealaska Heritage Institute
More than 10,000 years ago, Alaska's Native people were the only occupants of the land. Learn more about these tribes through the exhibits. You'll see how indigenous people in the area create tools for catching salmon and halibut and what they did to protect fish populations. Explore important Native art and so much more.
Since 1980, the Sealaska Heritage Institute has been dedicated to protecting and perpetuating the Tlingit, Haida and Tsimshian cultures.
Looking for a Hotel in Juneau?
Governor's House
The Governor's House has been home to 12 governors and their families so far since Alaska became a state in 1959. Before that, territorial governors and a secretary lived in the house, which was built in 1912. The house is a New England colonial that cost $40,000 to build, but is worth far more today. 
It features an astounding 14,400 square feet with 35 rooms and 10 bathrooms. It also has six fireplaces, which are all stunning and take you back decades in time. The home has welcomed notable visitors, including President Harding and President Gerald Ford.
You can only see the inside during specific times of the year, but the outside architecture is worth a look if you're in the area. 
Historic Churches
Downtown Juneau, Alaska, is home to two historic churches with stunning art and architecture.
St. Nicholas Russian Orthodox Church was built in 1894. It has since been refurbished and earned a listing in the national historic landmarks. One notable thing about this church is that is an octagonal shape. It is home to 18th-century Russian icons and religious relics. 
The Cathedral of the Nativity of the Blessed Virgin Mary and former location of the Archdiocese of Anchorage-Juneau was built in 1910 to replace the original church structure built in 1886 to serve the gold mining community.
House of Wickersham
This large Victorian home built in 1898 was purchased by pioneer Judge James Wickersham. It is listed on the National Register of Historic Places. You can step inside this house during its operating hours, which you can learn about on the Alaska Department of Natural Resources Division of Parks and Outdoor Recreation website. 
Bars and Restaurants
There are ample options for eating and drinking while in downtown Juneau – so many in fact, that we can't list them all. But here are a few food options located within historic buildings or that offer unique tourist experiences.
Red Dog Saloon features Wyatt Earp's gun as well as other Alaskan memorabilia that will interest you. Inside, you'll find some Juneau hospitality and classic food items, like gold rush nachos, burgers and beer-battered Alaskan cod.

Alaskan Hotel and Bar is on the National Register of Historic Sites. As you walk inside, you're greeted with Victorian-era furnishings. To stay at the hotel, you need to be comfortable with small, old rooms – many of which have shared bathrooms with other hotel guests. But it's a great place to visit during your downtown Juneau tour or to relax for some food and drinks.

Imperial Bar is at the location of Juneau's first bar, The Missouri. The building dates back to 1891. It still has the original pressed tin ceiling. 

Heritage Coffee Roasting Company is located within the building that was originally Jorgenson's Hardware. The building dates back to 1896, making it an interesting place to visit.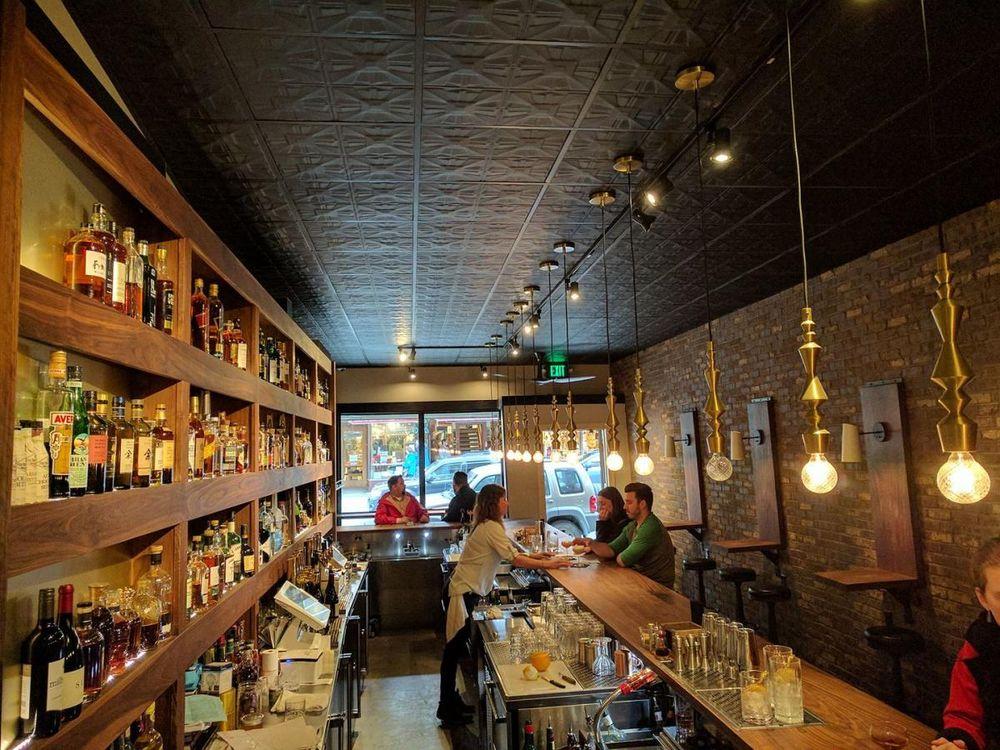 Emporium Mall
The Emporium Mall is at the location of the former Alaska Steam Laundry. It was built in 1901, but the original building is no longer standing. However, you can see photos of the wood-shingled turret inside Emporium Mall. 
Senate Building
The former senate building is now home to many shops. But you can still see its original elegance and neat architecture. 
Statues and Art
Throughout your exploration of downtown Juneau, be sure to check out these outdoor statues and art displays. The Windfall Fisherman is probably the most iconic and must-see art you'll find on your downtown tour.
Skip Wallen's Windfall Fisherman is a life-sized bronze bear located on Main Street. This is a great photo op and a chance to take in local artistry.

The Whale Project convincingly shows a breaching whale. The statue was erected in celebration of 50 years of statehood in 2009.

Statue of Patsy Ann, the Dog commemorates the dog who greeted ships and admirers on the docks. 
Stay at a Downtown Juneau Hotel
If you plan to spend a great deal of your time downtown during your stay in Juneau, it's best to book a downtown Juneau hotel. Juneau Hotel is one of the top 7 hotels in Juneau with nice views. Plus, you'll have a full kitchen and washer and dryer in your hotel suite. Although the hotel is categorized as an extended stay, you can stay for one or more nights. And you'll be within walking distance of many great attractions. 
Book your stay now to get ready for a downtown Juneau experience you'll love!
Keep Reading