Remote work can provide some great conveniences. But when you work from home day after day, your home might feel like it's shrinking. So you move from your home office to the dining room table. Then you find yourself sitting on the couch in the living room. But nothing really shakes up the monotony.
The great news is that you can work remotely from anywhere. Change up your scenery regularly with fun adventures, such as booking a Juneau extended stay hotel reservation.
New Remote Office Location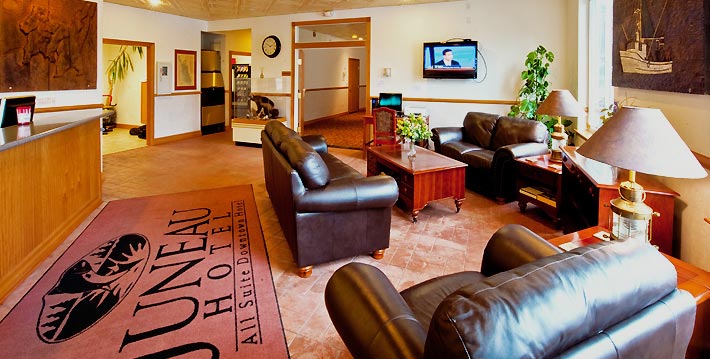 Prices for hotels in Juneau are currently outstanding. It's the offseason, so tourism activity is lighter during these winter months. Take advantage of visiting an off-season location where booking a stay is extremely affordable.
At Juneau Hotel, we offer all the conveniences of home, including a full kitchen and in-room washer and dryer. Work from the main living space and still have a separate bedroom to rest and relax in each evening. That way you relax and decompress without looking at your work materials.
There's room for the whole family in one of our suites, which sleeps up to six people. If your children are feeling as stir crazy as you are from remote school, bring them along.
You might be saving your vacation time for a summer beach getaway. But because work is so flexible right now, you can still escape the daily norms without using vacation time.
If you're worried about the expense of traveling to Alaska for remote work, be sure to read up on our Juneau hotel stay and vacation cost estimation article. This will help you budget and plan for the perfect remote work getaway.
Spectacular Views for Conference Calls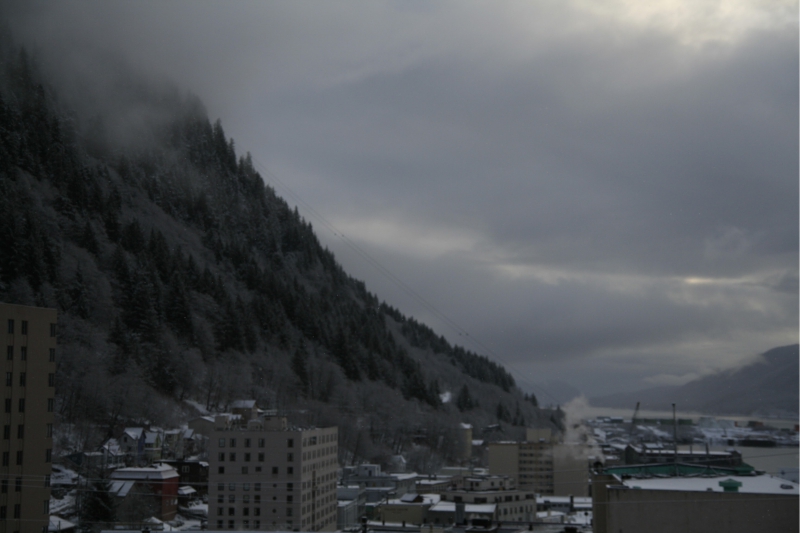 Even in-person meetings can be challenging to stay engaged in and focus on day after day, week after week and month after month at a job. Making meetings remote makes them even more challenging to focus on and engage with.
The views in Juneau will make you feel at one with nature. Juneau Hotel is one of the top seven hotels in Juneau with a nice view. As you work and meet digitally with colleagues and clients, enjoy looking out the large windows in your suite. You might get the rare opportunity to see bears, bald eagles and more stunning wildlife playing while you get your work done.
Pack wisely so you will have warm clothes to bundle up and explore downtown Juneau on your lunch break. Juneau Hotel puts you right in the middle of the bustling and quaint downtown environment. Pop into some of the little shops to see the creative gifts and trinkets our locals create. Stroll to the pier where you might see whales congregating.
Then return to your work feeling refreshed from the outdoor air and rejuvenating by your new surroundings.
On the weekends, you can enjoy walking the sights of Juneau. We planned out a walking tour that helps you see the downtown highlights on foot so you don't have to rent a car or hire transportation services.
Adventurous Dining
That takeout restaurant down the street from your house that knows you by name might be starting to taste boring. Or the ham and cheese sandwiches that you prepare in between meetings while working from home have become the same old thing.
Juneau is home to diverse dining and cuisine to wake up your taste buds. Our Juneau extended stay hotel is nearby many great restaurants. You can easily walk there during your lunch hour or order delivery. The front desk team is always here to help make recommendations for great places to try during your remote work getaway.
And after work, you can venture a little farther to experience Juneau during dinner out. We recommend heading to a waterfront restaurant to dine there and enjoy another view of Juneau.
If you're looking for some great beer, be sure to try Alaskan Brewing Company. You'll find a diverse set of beers here, including hard seltzer so you can enjoy a drink but still feel light after doing so.
We also recommend Tracy's King Crab Shack if you're looking to enjoy fresh seafood while you're in town. You can even ship some crab home to loved ones while visiting this restaurant to help others feel rejuvenated during this time of year.
Convenient On-site Gym
It's so challenging to feel your best in the winter months. With less sunshine to increase your vitamin D levels and more time inside due to weather, your activity level also probably is lower than it is in the warmer months.
Take advantage of booking a hotel for remote work with an on-site gym. Start your day with a treadmill workout or watching the news while on the stationary bike. Juneau Hotel offers a wide variety of amenities to help you relax and feel at home during your visit.
Our on-site gym will help you get the exercise your body and mind need to focus on your daily work. Whether you take a walk downtown at lunch or end your day at our on-site fitness facility, you might be surprised by how much better you feel after a short stay.
Friendly Front Desk Staff
At home, you probably turn to Google for ways to get out and have fun this time of year. Or you ask for recommendations on social media. But when you escape to a hotel in another area, you have a front desk team who can help you book after-work excursions, find the best places to eat or recommend a local food mart to get some groceries and a bottle of wine.
At our hotel, the front desk is always happy to help our guests enjoy their Juneau experience. No matter what you need or the questions you have, we'll be there for you. Stop by and chat in person or use your room phone to reach the front desk conveniently. If you're out walking in downtown Juneau and need assistance, you can also always call from your cell phone.
Why Juneau is the Perfect Remote Work Retreat Location
One of the best things about Juneau is that people are extremely friendly here. Whether you're looking for some new smiling faces to enjoy while out walking or hoping to learn more about the area during your stay, you'll love the local atmosphere.
The off-season also provides a great way to avoid heavy tourism while working remotely. So you won't feel bad staying inside to work during the day while other tourists are out enjoying the town. And you won't face crazy crowds or trouble making travel arrangements for your remote work retreat.
Many people across the U.S. have never been to Alaska. This is the perfect time to come experience the area in its stunning winter glory. You can plan to walk the beach and see how pretty it is frozen over and teaming with winter wildlife.
Take a seaplane ride to see the glaciers or hike across Mendenhall Lake. That's an experience you can't have during the warmer months since it won't be frozen. Generally, it's several miles around the lake to take in this unique experience. But in the winter, you can take the short cut straight across.
There are plenty of fun things to do after work and on the weekends during your adventurous remote work retreat in Juneau. Start planning your time here by booking a suite at Juneau Hotel.
Further Reading:
Keep Reading