If we were to describe a family trip to Juneau in one word, it would definitely be adventure. Juneau is a popular destination for those seeking activity holidays, and there cannot be anything more fun than that for a family with active kids. It's also well known for being quaint, a bit isolated from the outside world (you can only visit by air or ferry),  with a small community and limited city activity (you'll notice this once the clock strikes 5pm and everything starts closing down). But when it comes to fun and exploring, to sightseeing and family hikes, no other city stands out as much as Juneau, Alaska.
Because of its compact size, Juneau is easy to get around with kids. There's a big variety of restaurants for all kind of tastes and preferences. Some of them even have children zones for the parents to have a quiet break over lunch. Check out the 5 insider's tips for travelling to Juneau, AK and a handy list of things you must know about Juneau. In this article we'll go over some of the most exciting things you can do on  your family trip in Juneau.
Best sights and activities with kids in Juneau
Goldbelt Mount Roberts Tramway
The bright orange cabins of Mt Roberts Tramway became a symbol of Juneau. Children will enjoy the 6 minute long climb that offers a splendid view over the Gastineau Channel. The 1,670 foot height opens up the Juneau Port (the busiest Alaskan port), downtown Juneau, forests and mountains surrounding the city like a wall of fortification. The trip up the mountain is an excellent bird watching opportunity. The tram is also a convenient alternative for reaching the top of the mountain.
The tramway operates between 11:00 AM and 9 PM on Mondays and 8:00 AM to 9:00 PM on any other day. However hours tend to vary in early May and late September, make sure to check the schedule.  Expect to pay $35 for an adult and $18 for a child all day-pass up and down the mountain.
Whale Watching
Children of all ages will love the sight of a whale emerging from the waters. It's magical and frightening at the same time! Local captains have quite the experience and know the best places to sail. You should also expect to encounter sea lions and bald eagles. Many boats serve snacks and hot cocoa for the passengers.
TripAdvisor is the best place to search for whale watching offers, but we've heard good things about Juneau Whale Watch. We suggest booking well in advance as prices tend to skyrocket as the summer approaches. These guys do have a fair cancellation policy in case you change your mind.
Looking for a Hotel in Juneau?
Helicopter Flight & Dog Sled Tour
Visiting Juneau and not going on a dog sled tour is like going to Paris and not visiting the Eiffel Tower. Not only kids, but everybody will have an amazing time discovering the ice fields in the most authentic way – racing behind a team of gorgeous huskies. After all, sled dogs used to be the most important means of transportation in North America and Canada even before the 19th century.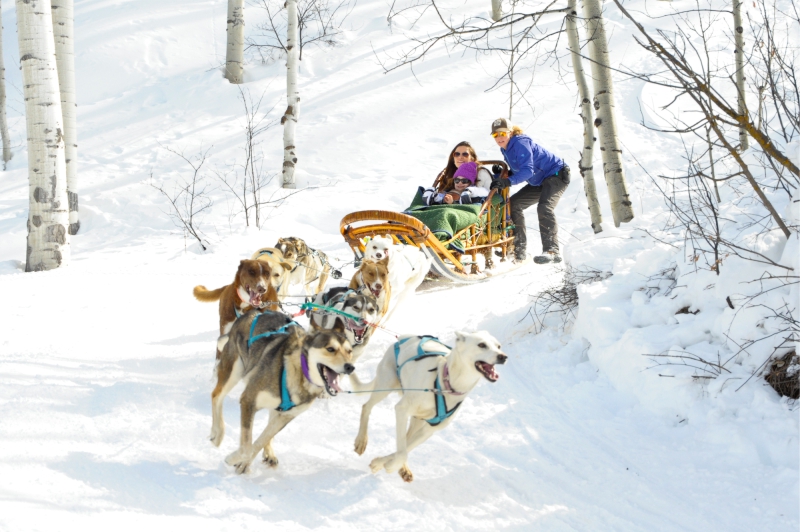 Not to mention the scenic views from the helicopter flight. Prepare for an unforgettable experience and take your camera with you – there will be plenty of opportunities to take fantastic pictures!
Alaska Shore Excursions and Alaska Icefield Expedition are the most popular local tour providers. Note that these operate exclusively between May and September.
Hiking
A great family trip to Juneau definitely includes a day of hiking in the mountains and forests surrounding the city of Juneau. There's a big variety of hiking trails to meet the most enthusiastic demands. Some of them provide breathtaking views of the Mendenhall Glacier (The Mendenhall River Trail), others take you through the alpine (Mount Roberts Alpine Loop Trail). Every trail is different and offers a one of a kind experience, but all of them have something in common – the feeling that comes with pleasant exhaustion and the growing excitement once you reach the destination. They say that it's better to see something once than to hear about it a thousand times. This experience really fits that category. Pro tip: always stay in groups when hiking and make lots of noise to keep the surrounding nature (ahem black bears) at bay!
Where to Stay
Juneau Hotel has a convenient location in downtown Juneau with rooms designed for family stays. Additionally, shops, restaurants and the local city attractions such as the Humpback Whale Statue are within a short walking distance from the hotel.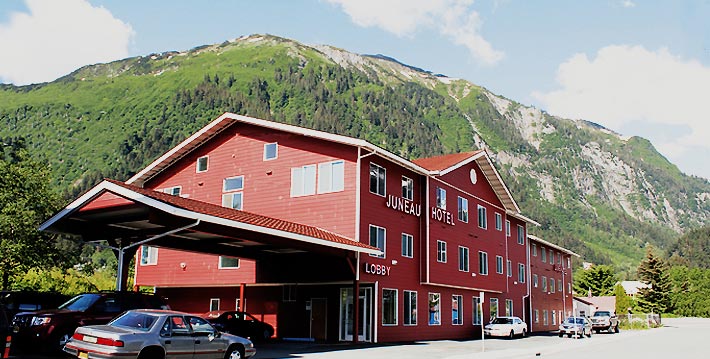 Frontier Suites Hotel in Juneau has a strong reputation for its professional and friendly service. They once helped a family build a pillow fortress in their room at the hotel! Check out the whole story here.
Planning a family trip in Juneau, AK? Let us know about your dates and we'll do our best to make sure you get the most out of the trip.
On a Lookout for Affordable Hotels in Juneau?
Further reading:
Keep Reading