Juneau's known for its breath-taking natural splendor. One of the best ways to
see Juneau in all its glory
is by taking a ride on the Mountain Roberts Tramway. So, to enjoy the best of Juneau, when planning your trip, consider choosing between hotels near Mount Roberts Tramway.
The tram leaves downtown Juneau every five minutes for a roughly 1,700-foot ascent of Mount Roberts. Because capacity is limited to 60 people, consider taking a morning ride to beat the crowd. Tickets cost $35 for adults and $18 for children 3 to 12. Children 2 and younger can ride for free.
The Juneau Hotel is one of seven hotels located less than two miles from the tramway. The hotel offers multiple amenities, including suites with full-size kitchens, a fitness center, in-room laundry machines, and a free airport shuttle.
The Juneau Hotel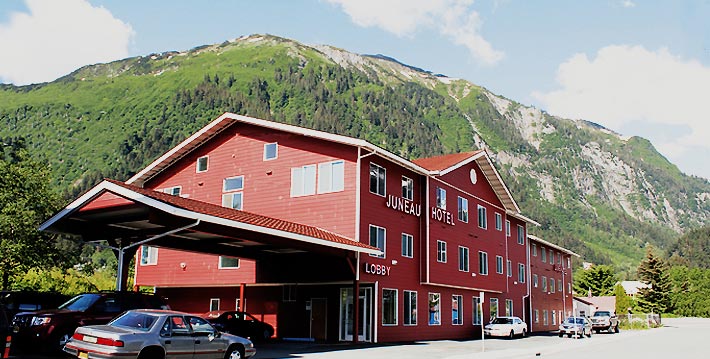 Distance to the tramway: 1.4 miles
Hotel amenities: Free parking, free high-speed internet, free breakfast, kitchen, fitness center, airport transportation, family-friendly, non-smoking hotel
Guest reviews: Guests praise the Juneau Hotel for the quality of its free breakfast, its handy location in downtown Juneau, kitchens, and in-room laundry services.
Clean, excellent staff. Near everything. Have stayed here several times before this last time and it is always the same nice place to stay. Quiet place right in the heart of Juneau. Very comfortable and secure, Front desk on duty 24/7.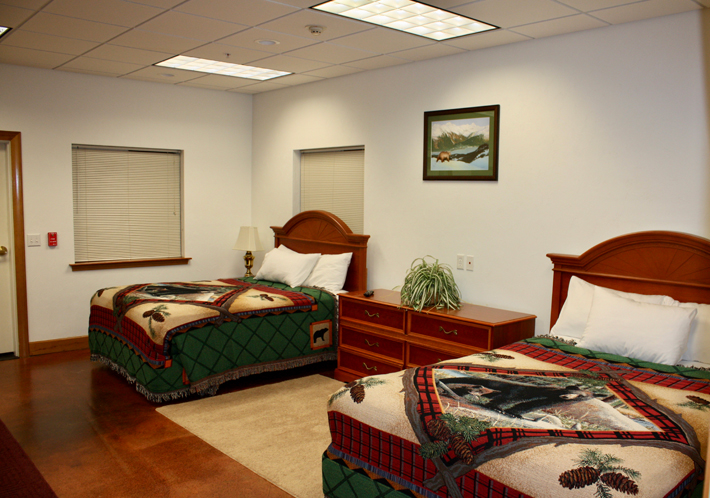 Very clean, staff was great, very helpful, just a few minutes walk from the ocean downtown. Very great place to visit would definitely stay here again. Great views right from the hotel. Great continental breakfast every day!
We were totally happy with our stay here. Delightful Tina welcomed us warmly and upgraded us without our even asking! Lovely to each have our own bed rather than one of us sleeping on the fold-out sofa as we'd expected. Spacious, clean, totally well-equipped suite, even washer and dryer. Very nice breakfast, much nicer than most hotel breakfasts — and thank you for NOT using Styrofoam! Great quality for the price.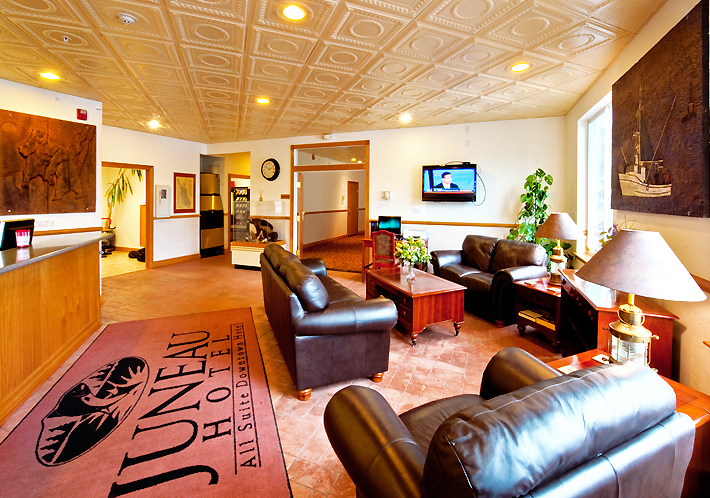 What an unexpected bonus to turn up to your hotel room and find it had a full kitchen, sink, large fridge, dishwasher, utensils, plates, cutlery etc. But it gets better…. a washing machine and dryer YES!?! IN YOUR ROOM. Then, a separate lounge area and bedroom. Perfect could have stayed a week. Hotel is a little out of town but the walk goes along a boardwalk with a whale statue and information board. Pleasant 10-minute walk. Five-minute walk to Tracy's Crab Shack. And the final bonus Free shuttle to and from airport. Highly recommend this place!
Right on the waterfront. Perfect for a quick walk into town. Shame about the traffic noise. 10 mins into the center for everything you need. Right near Foodlands for any grocery supplies. Staff nice, obliging. Rooms clean. Self-contained with kitchen. Nice views. Suits everyone.
The Alaskan Hotel and Bar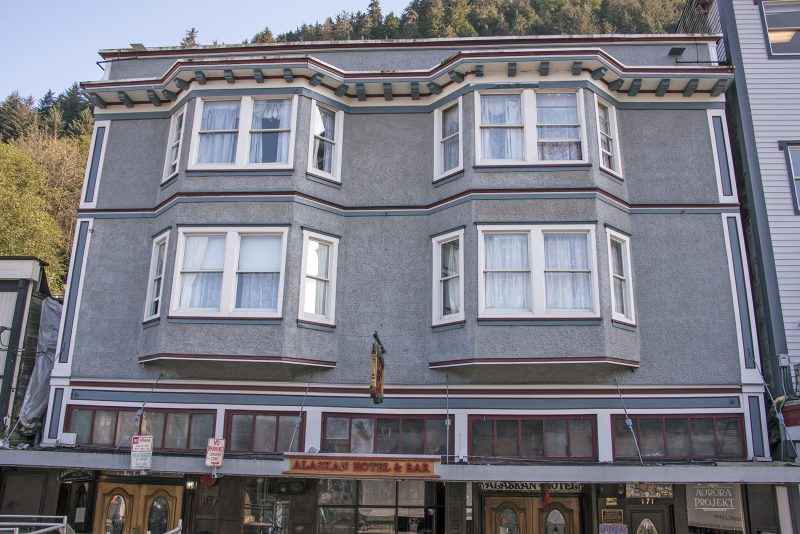 Distance to the tramway: .7 miles
Hotel amenities: Free high-speed internet, bar-lounge, evening entertainment, gift shop, non-smoking rooms
Guest reviews: Guests enjoy staying in the historic Alaskan Hotel located in downtown Juneau but complain about small rooms without bathrooms or showers.
Nice hotel in a great location in Juneau. You can walk to the docks and the tram up to Mount Roberts. Right along Main Street in Juneau. Walking distance to the bus and museums. The rooms are small and many without bathrooms and showers but the public bathrooms and showers are nice. Mike the manager was awesome and the bar workers were awesome. The bar is attached to the hotel. No elevators, so you have to be able to climb stairs. Enjoyed this historical building
Stayed one night before flying to a remote area of Alaska to fish. When I arrived to check-in, the front door was locked, but the front desk operator heard me knock and eventually opened the door. He had alcohol on his breath, and said I was lucky he heard me knock. He confirmed my reservation but said I had to move to a different room because my reserved room had flooded. When I entered the room, the kitchen sink was plugged, the toilet seat in the bathroom was not mounted on the toilet, there was no bathroom vanity, only a sink pedestal mounted in the bedroom. The room was cold and had no thermostat, so I asked the front desk how I can get heat to my room. He said there was no heat to the room because the water boiler system broke 2 years ago and still hadn't been fixed, but he offered me a portable heater. And the room was located directly above the bar which played loud music until 2 am, making it impossible to get a restful sleep. Overall, the hotel needs major upgrades and smells very old. It was a very strange experience. I would not stay there again.
Well located on the main street of this picturesque town. Many restaurants nearby. Hotel has much charm–stained glass, wide staircase. Bar is not noisy. We paid more for a street-facing room which has large windows and a slight view of the harbor and mountains.
Baranof Downtown
Distance to the tramway: .8 miles
Hotel amenities: Free parking, free high-speed internet, room service, fitness center, bar-lounge, non-smoking rooms
Guest reviews: Guest praise the Baranof Downtown for its location, cleanliness, and value.
Fantastic location, walking distance to Cafe, Shops, Eateries, Convention Center. Room is clean, bathroom is clean (very important). Staff is friendly and always there to help and answer questions. Love my first experience here in Juneau, AK.
The room was always kept clean, friendly desk front staff. Love the food and drinks at the Bubble room so yummy! Next time I think I am going to pay a little extra for a bigger room with one of their nice views!
My fiance and I stayed here for our anniversary and it was such a cute place! It had a very royal vibe that felt so fancy. And the staff was super friendly. I really loved my stay.
Driftwood Hotel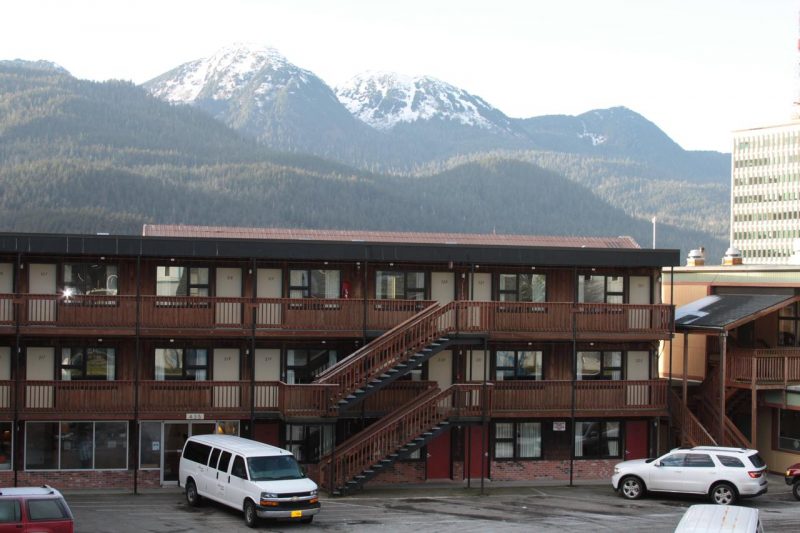 Distance to the tramway: 1.1 miles
Hotel amenities: Free parking, free high-speed internet, kitchenette, free airport transportation, pet-friendly, non-smoking hotel
Guest reviews: Guests praise the Driftwood Hotel for its friendly staff, downtown location, and free airport transportation.
We spent two nights here after a cruise. We selected it because of the airport transfers – always handy. The museum was just next door, a wonderful breakfast cafe on the corner and all of Juneau in easy walking distance.
This is a budget hotel. We were only planning to stay one night so thought it would be okay but were disappointed. The hotel is old and tired. The carpet in our room was dirty and smelled musty. The bed sagged on one side so that one of us was sliding out all night. The bathroom door was so swollen with damp that it could not be closed. When booking in we were told that the hotel would not take any responsibility for valuables left in the room. There was no refrigerator or safe in the room.
We visited Juneau as a part of our tour of Alaska which we did for our honeymoon. We arrived at Juneau airport late one evening and had one day to explore before our ferry out of Auke Bay the following night. In terms of accommodation, The Driftwood is a functional, clean motel in a good location for Downtown Juneau. The free airport and ferry transfer service makes this a really cost-effective option if you are just passing through. We asked about the possibility of paying a half day rate for the next day as our ferry wasn't until late the next night, but this could not be accommodated, which I was a little confused by as the motel did have vacancies. Luckily, they offered to keep our luggage for us for the day and there was lots to do in Juneau to keep us busy all day. Overall, we would stay at the Driftwood again if we needed a functional room and access to transfer services.
Four Points By Sheraton Juneau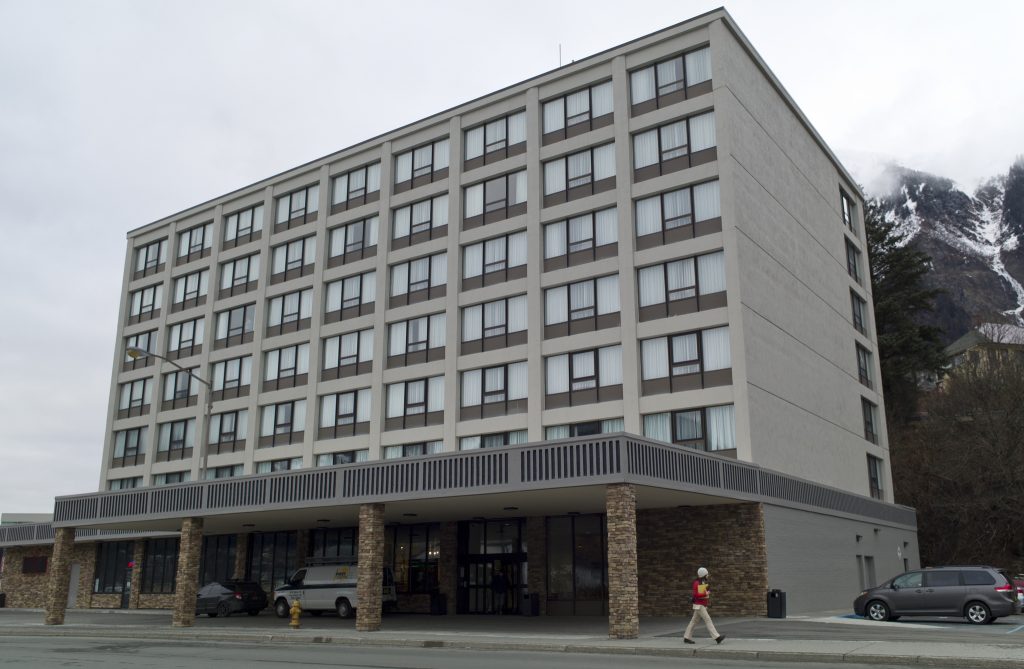 Distance to the tramway: .9 miles
Hotel amenities: Free parking, free high-speed internet, bar-lounge, bicycle rental, fireplace, non-smoking rooms, ocean-view rooms.
Guest reviews: Guests praise the Four Points Sheraton Juneau for its location, cleanliness, and helpful staff.
A no-frills Sheraton located in downtown Juneau. It is within easy walking distance to all of the downtown attractions. The hotel is clean and well maintained if a bit dated. Like most buildings in Juneau, it has no AC. Fans were in the room and kept the temperature comfortable. The staff was professional and pleasant. There is a manned booth in the lobby where you can book tours of the area. There is a sports bar on the premises, but it is not affiliated with the hotel. All in all, a good place to stay.
The Four Points Hotel was the perfect home base for our stay in Juneau. The room was comfortable and we had a great waterfront view. Everything downtown was walkable- even as it rained everyday. The hotel had plenty of parking for our rental car. The breakfast was delicious and large portions to fuel up for the day on the hiking trails. The staff was very friendly. I highly recommend staying here.
We stayed here overnight before a small ship cruise. The hotel was clean and new, the staff friendly. The concierge was very helpful with suggestions for sightseeing and dining. The hotel is within a 2- to 5-minute walk of most shops and restaurants downtown.
Ramada by Wyndham Juneau

Distance to the tramway: 1.1 miles
Hotel amenities: Free parking, free high-speed internet, bar-lounge, room service, family-friendly, pet-friendly, non-smoking hotel
Guest reviews: Guests praise the Ramada by Wyndham Juneau for its exceptional staff, its location, and its on premises restaurant and bar.
Spent four days in Juneau on business. The Ramada was a great place to stay. Christine and Chris went out of their way to make our stay pleasant. They helped arrange transportation to and from the airport during a snowstorm when taxis were in short supply. The restaurant is a local favorite and serves up great food and drink. Close to downtown, shopping nearby. Rooms are comfortable and mine happened to look out over the water.
Suzette managed the front desk every day we were here, and she was absolutely wonderful … from directing me where to buy a bottle of wine at 10 pm after our flight arrived, to honoring my request for a room with a private balcony and a great view. Indeed, the hotel is much better, in my opinion, than the nearby Sheraton and best of all, has a restaurant and bar if it's too cold outdoors. And it's only a 15-minute walk to historic bars, restaurants, and stores along Franklin Street and the cruise port.
I stayed at the Ramada in Juneau while attending a week-long class. Perfect location for quick walking access to the State Capitol. Room was clean, big, beds comfortable, lots of closet space. Very quiet the whole time. We held a potluck event at the conference room and staff was super helpful and accommodating. Staff friendly and front desk folks provided advice and directions. Even helped a little coordination among students. I didn't use it much, but internet was excellent. I would definitely stay again.
Silverbow Inn, Urban Boutique Hotel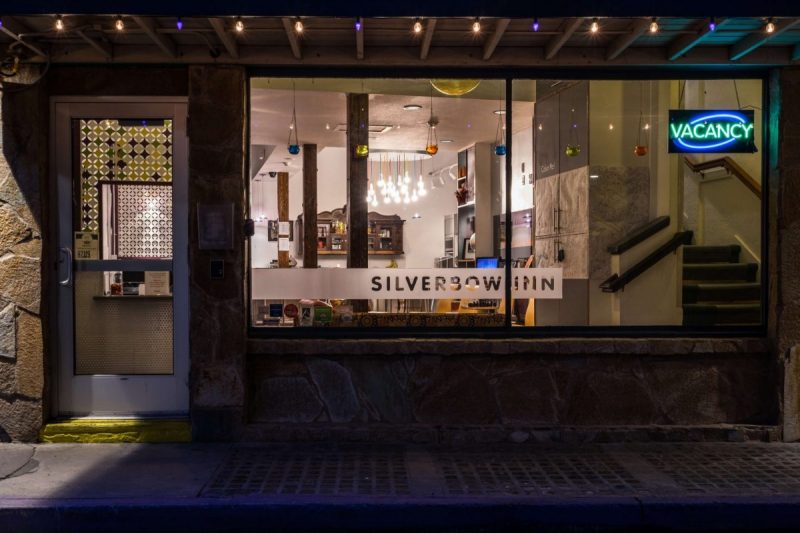 Distance to the tramway: .8 miles
Hotel amenities: Free parking, free high-speed internet, hot tub, blackout curtains, non-smoking rooms, family rooms
Guest reviews: Guests praise the Silverbow Inn for its top-quality staff and rooftop hot tub.
A nice small hotel with a unique vibe. Easy to book and all was ready when we came in late. Comfortable room and bed. The hot tub on the roof was a nice bonus. A variety of coffee and teas was on hand as other snacks. A nice way to start our trip to Hawaii.
We first stayed here approximately 10 years ago and have returned at least 4-5 times since then. This is our go to place in Juneau. The front desk makes an excellent first impression and in the hospitality business first impressions are everything. Mikeala went above and beyond. Everything from breakfast, fast check out to a bright smile and conversation. Housekeeping is top notch and my recommendation is to remember to tip them. They work hard. We will be back and if you choose to stay here you won't be disappointed.
We enjoyed our one-night stay after a cruise. The staff was very accommodating with helping us with transportation, sightseeing and logistics. They arranged the 5:45 am cab to the airport and packed us a to-go breakfast. On a scale of 1 to 10 on charm – they get an 11.
Choose the Best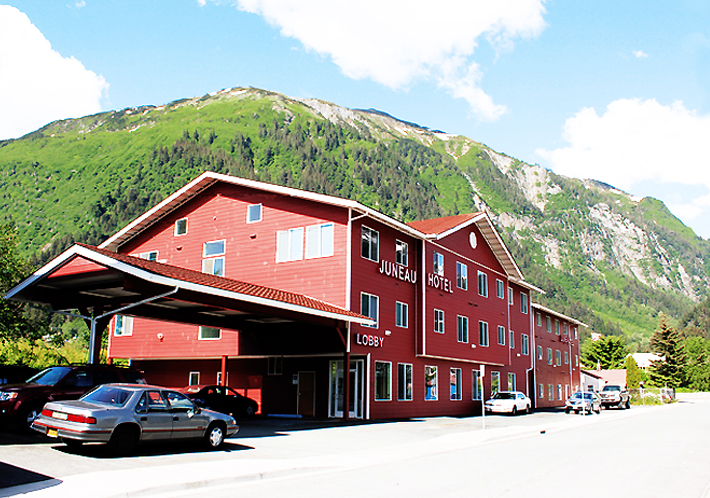 Conveniently located in downtown Juneau within easy walking distance of some of the city's most popular landmarks, the Juneau Hotel makes a great home-away-from-home for tourists. It's also an ideal choice for anyone choosing between hotels near Mount Roberts Tramway.
The tram provides the perfect way to view Juneau's stunning geographic location. A short ride lets you see not only the misty mountains but also Juneau's harbor and glaciers.
Enjoy your stay at the Juneau Hotel the best choice among the hotels near Mount Roberts Tramway. Book your suite today!
Further Reading:
Keep Reading