Longer travels can mean packing more, which can lead to wrinkled clothing. So if you're planning a Juneau extended stay hotel visit, read up on how to prevent wrinkled clothing so you can look and feel your best during your travels.
Even when you stay at a hotel with great amenities, no one wants to spend every morning ironing their clothes. We'll provide ideas for how to store clothes while traveling to prevent this laborious chore.
1. Pack Extra Hangers
Most hotel rooms only have a handful of hangers, even at extended stays. But hanging up your clothes is the best way to naturally release wrinkles and prevent more from forming. Make sure you have plenty by bringing some of your own.
Sometimes, suitcases get too full for long trips to bring enough hangers from home. When this happens, make plans to visit the local supermarket for more. Wire hangers take up the least space in your suitcase and in the closet once you arrive. These space-savers can make a big difference.
Or, you can call down to the hotel's front desk to ask if they can deliver extras to your room upon your arrival.
2. Prioritize Wrinkle-prone Clothes
You might not be able to hang every article of clothing, even with the best planning. So instead, focus on the most wrinkle-prone clothing or clothing that will show the wrinkles the worst.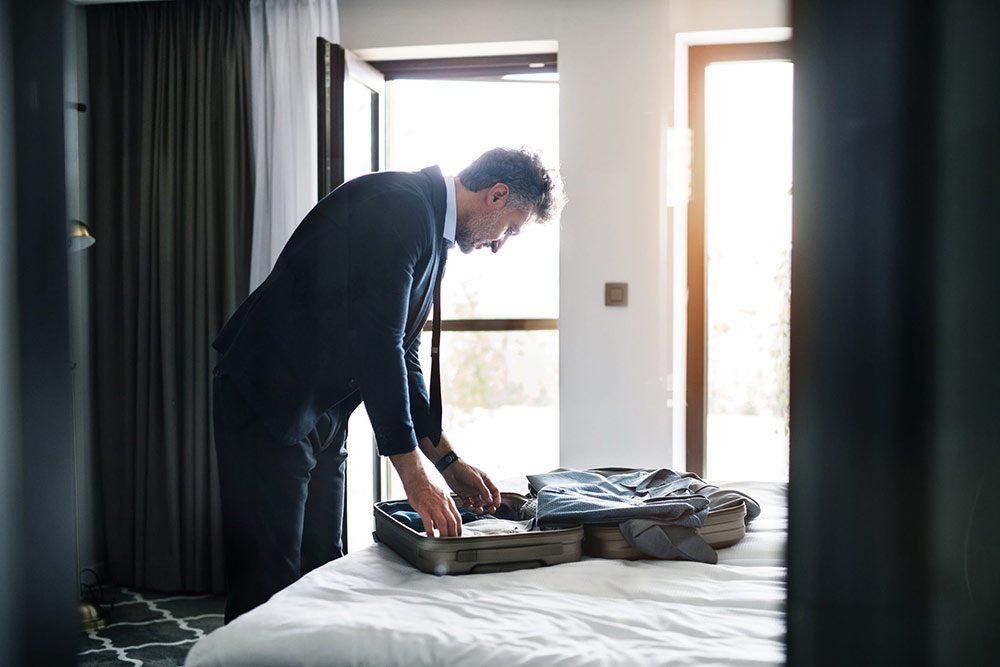 Generally, cotton, linen and rayon are the most likely fabrics to wrinkle if folded or crammed in a space too tightly. Also consider the use cases of various clothing articles. If you're in Juneau for an important meeting or conference, prioritize hanging the clothes that you'll wear for professional purposes. If your cotton T-shirts for exploring the town are a little wrinkled, no one will mind.
The best materials to place in a chest of drawers include silk, wool, polyester, nylon and acrylic fabrics.
3. Avoid Overstuffing Clothes in Closets or Drawers
No matter how many hangers you bring with you on your travels to Juneau, you could easily overstuff the closet. When you hang clothes too close together in a hotel closet, they can still get wrinkled even when hanging.
Be especially careful to avoid this when hanging up damp clothes shortly after washing them. Damp clothes are more wrinkle-prone and should not be touching other articles of clothing while drying. 
After doing laundry, look for other creative locations to hang your clothes to avoid overcrowding in the closet. Consider hanging damp clothes from doorknobs, the back of the shower door or the shower curtain rod to have more hanging space.
4. Use the Shower Like a Steamer
Hanging clothes can help release wrinkles when you first arrive in Juneau. But for materials where getting the wrinkles out is especially challenging, consider placing them in the bathroom while you take a shower. The steam will provide a natural way to relax the material back to its original smooth design. 
Just find a convenient location in the bathroom to hang the clothes where they won't get wet from the showerhead. As the room fills with steam, the hot water in the air will naturally remove wrinkles from your clothes. 
If you need to remove wrinkles but don't need a shower, feel free to turn on the shower as hot as it goes for a few minutes to fill the room with steam to improve the look of your clothes. 
Or if your clothes haven't gotten as smooth as you'd like once you finish showering, close the bathroom door and leave the clothing in there as long as the steam lasts. The less you open the bathroom door, the longer your natural steam room will last.
Looking for a Hotel in Juneau?
5. Limit the Time Pants Remain Folded
Pants are some of the most challenging clothing articles to keep from wrinkling. When choosing which articles to hang, put pants at the top of that list. And if you have to fold pants, fold them only once to get them from home to Juneau to avoid allowing them more time to wrinkle.
Of course, folding gym pants or thermal underlayers for hiking in Alaska isn't a bad thing since these clothing items are designed for the great outdoors. These types of pants are ideal for storing in a dresser.
6. Get Organized
Use a closet clothes organizer to free up more space and get more organized. You might consider an over-the-door shoe organizer to free up space in the closet. 
Or, get creative and use cascading hangers to fit more clothes into the space. Just be sure to try these at home before using them on the go because these cascading hangers could overcrowd your clothing, leading to wrinkles. 
Tiered pants hangers can help ensure you never have to worry about weird creases in your pants. That way, you're certain to have plenty of space for all your pants during an extended stay.
7. Don't Fold! Roll Your Clothes
Not only will you enjoy more space in your suitcase, but by rolling your clothes, you can prevent wrinkles. This will save time from having to iron your clothes when you arrive at your Juneau extended stay hotel. 
Even if you choose to roll your clothes instead of folding them, be sure to unpack as soon as you can once you check into your hotel room. That way, you'll feel at home in your new space but will also prevent wrinkles.
8. Bring or Purchase a Foldable Clothing Rack
If you don't have enough space in the hotel closet, bring an extra folding clothing rack. This can get small enough to fit in a suitcase that you can easily fly with. Or, if you don't have space to pack one, purchase one when you visit the supermarket upon arrival.  
Depending on the length of your stay, you might find that you have plenty of room in your hotel closet. So instead of filling up your suitcase unnecessarily, look to purchase an extra clothing rack in Juneau. You'll find many friendly shop owners happy to help you come up with solutions to any questions you might have.
You'll also find these clothing racks to be quite nice for spacing out your wet clothes as a drying rack after you do a load of laundry. So don't forget to factor in those needs when assessing your hanging space.
Storing Clothing in a Juneau Extended Stay Hotel
Extended stay hotels provide comfortable long-term, temporary housing for travelers. Whether work takes you across the country or you want to spend several weeks closer to family members, an extended stay provides all the comforts of home.
The team at Juneau Hotel would be honored to host you. Our front desk and staff are there when you need us to answer questions or help you come up with solutions while you're away from home.
Book your stay with us now to secure one of our comfortable suites with in-room laundry and a full kitchen. You'll find the Juneau community welcoming and enjoyable to be around throughout your time with us.
Keep Reading