Juneau kayaking can get you up close to Mendenhall Glacier, engaged in a close encounter with whales in their natural habitat, or simply to slow down and enjoy a calming cruise through local lakes or the ocean.
Experienced paddlers will enjoy the ready availability of kayak rentals where they can explore where they please. But those with little to no experience will appreciate the many tours and guided kayaking experiences that meet their experience levels. 
Learn more about where and how to kayak during your stay in Alaska's capital.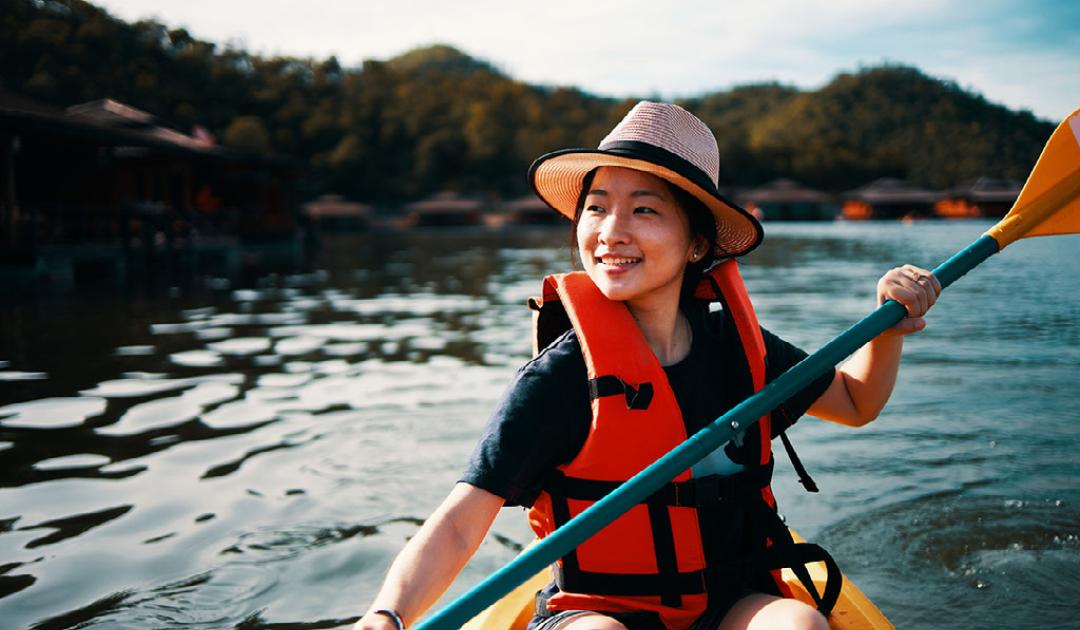 Juneau Kayaking Near Mendenhall Glacier
You'll find several guided tours that take you into the waters around Mendenhall Glacier. Some even provide an overview of kayaking to help you get started if you've never paddled before. Tours include all equipment you'll need and many excursion companies will pick up tourists from the cruise dock or their Juneau hotel. 
The Mendenhall Glacier View Sea Kayaking tour takes you through Fritz Cove first. Then you'll see the Mendenhall Wetlands, which are home to bald eagles and humpback whales. 
If you're looking for a full-day experience, you can do the Mendenhall Lake Kayak and Salmon Bake Adventure. This is a 5-hour kayaking tour with a guide. And at the end, you'll enjoy an all-you-can-eat salmon bake. The salmon is direct from Alaskan waters. Plus, you'll have options for several other hot and cold dishes.
During the kayaking experience, you can pan for gold at a historic mine and stop for several outstanding photo opportunities. You'll also see Nugget Falls up close during the tour. You don't need to have any prior kayaking experience, but even those who know what they're doing will find the tour engaging and fun.
Juneau Whale Watching from a Kayak
Juneau is well known as a great place to do whale watching. Kayaking will allow you to get as close as possible to these incredible creatures. But you don't want to go it alone because this could be dangerous.
Working with an excursion company ensures your safety and that you go to the right place for the most likelihood of seeing a whale.
Many excursions are in small groups of a few kayaks. The Paddle with Whales Kayak Adventure has hotel pickup and serves groups of up to 6 people. You'll enjoy a 6-hour tour that includes incredibly diverse views ranging from the forest to snowy mountains, and of course, whales. 
You'll start your adventure at Auke Bay Harbor where you'll get orientation and prepare for your trip. While the tour starts in a motorboat, you'll transition to kayaks once you reach Channel Island Marine Park. This is a prime location where whales feed, which is why it is optimal for seeing them. 
Looking for a Hotel in Juneau?
The tour includes snacks and bottled water as well as all required permits and a professional guide. Just know that once you book your tour, it is nonrefundable and will proceed so long as conditions are safe. So even if it's a bit rainy, your tour will not be canceled.
Paddle to a Prime Bear Watching Location
By far, this tour is the most expensive kayaking tour you'll find. But it's also very unique. The Exclusive Pack Creek Bear Viewing tour includes a floatplane ride where you'll get to see Tongass National Forest. Then you'll kayak through Windfall Harbor. 
Groups of no more than 10 will enjoy the Alaskan wilderness during this incredible 8-hour tour. You'll have one guide per five people, which means a very personalized tour experience. During the tour, you'll get to see bears in their natural habitat. Watch as they frolic through the meadows and catch salmon. 
Viewing bears from the Pack Creek Brown Bear Viewing Area is exclusive to a select number of guests through tour operators who hold special permits for the area. This area of Admiralty Island is known as the "Fortress of the Bears." 
Once you've kayaked to the area, you'll have three hours to get out of your kayak and view the bears. Watch as the bears enjoy the streams where the salmon are plentiful. Then climb lookout towers for a great view of bears enjoying their home. 
The tour includes lunch as well as the necessary gear, including rain jackets and rain boots. Guests on this tour must be at least 12 years of age. 
Kayak Rental in Juneau
Not interested in the structure of an excursion or tour? You can rent kayaks in several locations throughout Juneau depending on what you're hoping to see during your paddling. Some options include:
Ferry Terminal

Downtown

Shrine of Therese

North Douglas Boat Ramp
When you rent kayaks in Juneau, you should be experienced and know what you're doing. This will help you avoid getting tired and unable to make it back to shore before dark or getting lost. Beginner kayakers should heavily consider engaging in a guided tour until they learn the area and get the necessary kayaking experience to venture out alone.
Where to Kayak in Juneau
You have many options for where to kayak during your stay in Juneau. Here are some of the prime locations.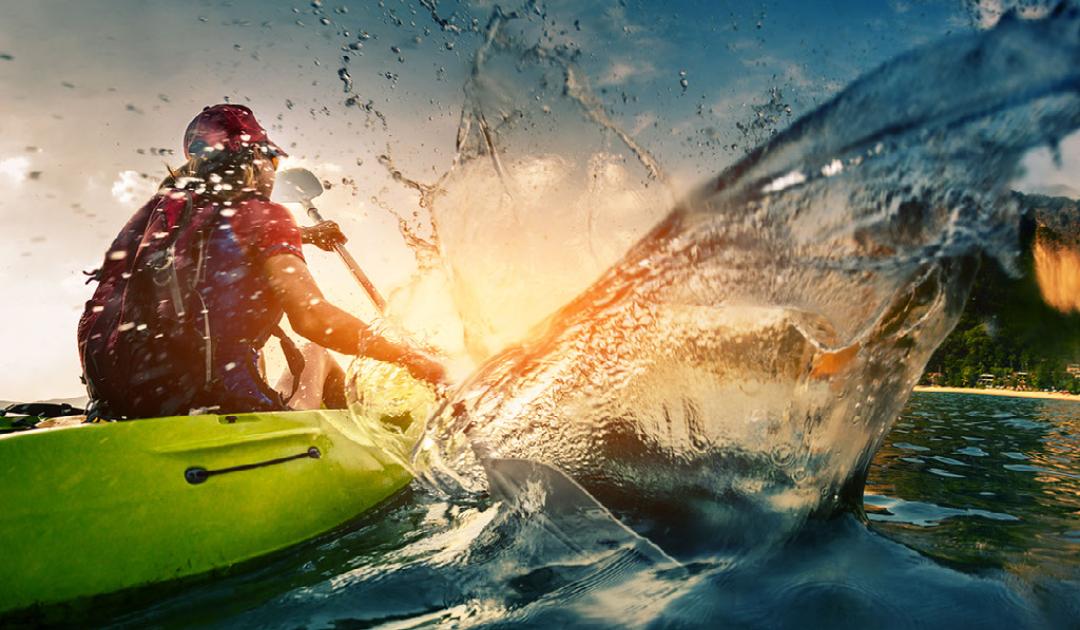 Mendenhall Lake
Glaciers are rare sights in many areas of the country. But Alaska boasts an incredible experience. Mendenhall Glacier is surrounded by Mendenhall Lake. You can get up close and personal with this glacier at an affordable price.
While kayaking, look for mountain goats, beavers, bears and wolves at the edge of the water. You'll also have a great opportunity for bird watching in the air and on sandbars. But as you kayak, stay safe distances from the towers of ice. These could come tumbling down at any time. 
Channel Islands State Marine Park
Just off the coast of Juneau are 14 islands. The state established the Channel Island State Marine Park in 2008 to allow tourists a chance to view a group of unspoiled islands. You'll likely see humpback whales in the area as well as sea lions and other marine life. 
Fishing in the area is outstanding and you'll take in the quiet and serene views of the mountains. The snow-capped peaks are beautiful. And if you want to take your time exploring the area, there are great camping opportunities, either in tents or cabins. 
To get to Channel Island State Marine Park, you'll launch your kayak from Auke Bay Marina or Fritz Cove.
Auke Bay
Auke Bay is a great place to visit for a day. You can view tons of wildlife and sea life as well as waterfowl. Spend the day and kayak and hike in the same place. You might encounter jumping salmon and harbor seals. 
Watch for eagles and other birds overhead. One reason why this is a popular spot is because of the diversity of activities. Plus, many visitors like staying and having a picnic because Auke Bay is so great for it.
Where to Stay During Juneau Travels
Contemplating the best hotel for your Juneau kayaking trip? Juneau Hotel would enjoy the opportunity to serve you. Our suites feature full kitchens as well as a washer and dryer in every room. You'll feel right at home in our clean, safe rooms. 
Book your stay now and start gearing up for your kayak trip.
Keep Reading